Ebooks
Educational ebooks for piano players, for free and for purchase.

You can download the free ebooks directly without provide an email address. If you choose to purchase any item, thank you for supporting this site!
Piano Chords Practice - Triads, sevenths & extended chords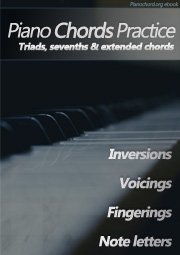 Download ebook (free)

Description: This eBook is a collection of exercises for chord training including staff showing the chord in standard notation. The purpose is to increase your harmonic vocabulary at the piano and widen your understanding of how chords can be used. You are presented of ways to play chords both with one and two hands plus voicings and as arpeggios.
400 Piano Chord Progressions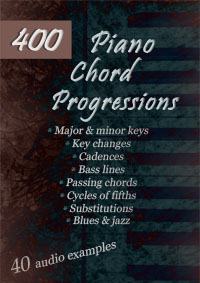 Buy ebook $4
Description: In total 400 progressions for piano including 40 audio examples. Suggestions of chord voicings concerning 5-, 6- and 7-tone chords. The collection of chord progressions involves areas such as key changes, cadences, bass lines, passing chords, substitutions and cycles of fifths. In addition: learn chord playing concepts from presentation in standard notation.
Chord Theory for Piano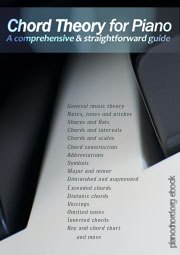 Buy ebook $4
Description: An introduction to general music theory is followed by an extensive overview of chord theory from the pianist's perspective.
Absolute Novice Piano - Sheet Music with Note Letters (mini edition)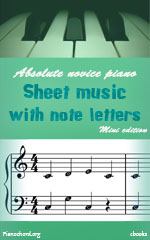 Download ebook (free)

Description: Sheet piano with note letters for beginners. Including Mary Had a Little Lamb, When the Saints Go Marching In, Scarborough Fair, Brother John (Frère Jacques) and Do-Re-Me.
Absolute Novice Piano - Sheet Music with Note Letters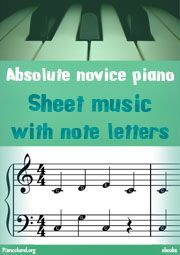 Buy ebook $4
Description: Sheet piano with note letters for beginners. In total 15 well-known piano songs arranged for absolute beginners: sheet piano with note letters.
THE SONGS: Twinkle, Twinkle, Little Star / Mary Had a Little Lamb / Au Clair de la Lune / Scarborough Fair / Row, Row, Row Your Boat / It's Raining, It's Pouring / Hush Little Baby / Brother John (Frère Jacques) / He's Got the Whole World in His Hands / This Land Is Your Land / Tom Dooley / When the Saints Go Marching In / Do-Re-Mi / Silent Night / For He's a Jolly Good Fellow

Screenshots:

(Click on thumbnails for enlarge)


Traditional Songs - Arranged for Piano with Chords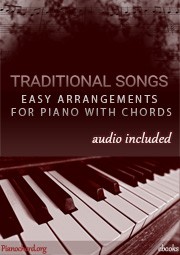 Buy ebook $4
Description: This ebook contains 17 traditional songs arranged for relatively easy piano with chords in mind. The left hand plays the chords and the right hand the melody. From easy to low intermediate level. Access to sound for all songs.
The songs: Morning Has Broken / Oh! Susanna / Aura Lee / Home on the Range / Auld Lang Syne / We Shall Overcome / Deep Blue Sea / Swanee River / Annie Laurie / My Bonnie Lies over the Ocean / Love's Old Sweet Song / Annabel Lee / The House of the Rising Sun / Loch Lomond / Mustalainen / Londonderry Air / Greensleeves

Screenshot:
(Click on thumbnails for enlarge)